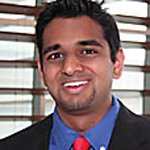 AMA (Ask Me Anything) interview with Naresh Vissa, a digital marketing millennial consultant, CEO of Krish Media & Marketing, and a best-selling author of Fifty Shades of Marketing: Whip Your Business into Shape & Dominate Your Competition and   Podcastnomics: The Book of Podcasting to Make you Millions.
Naresh turned down an offer from a leading management consulting firm to join a startup company and several years later, launched his own company.  In this episode, Naresh and Christie touch on a myriad of topics including:
How taking a big risk in turning down the management consulting offer from a prestigious firm to join an unknown startup paid off
Naresh helped the Houston Rockets basketball management team select 2007-2008 draft picks in a remote internship through the use of digital and predictive analytics
Embracing and exploiting the opportunities digital and its disruptive effects will have across every industry
Forging into political consulting, the digitization of politics and how it impacted the 2016 U.S. elections, including the launch of Naresh' newest book, Trumpbook: How Digital Liberals Silenced a Nation into Making America Hate Again
Naresh Vissa website | Krish Media & Marketing
Get your copy of Naresh Vissa's FREE audiobook by signing up for his newsletter here.
Podcast: Play in new window | Download | Embed
Subscribe: Apple Podcasts | Android | Email | Google Play | Stitcher | TuneIn | RSS | More