'MECE' stands for Mutually Exclusive, Collectively Exhaustive.  It is a technique used in consulting that helps consultants solve complex business problems.
Starting July 2019, The MECE Muse Unplugged is a weekly podcast variety show for go-getters focused on their journey to greatness in the form of interviews, storytelling, personal or career growth advice, and discussing trending topics that interest changemakers, go-getters, and ambitious individuals.   
While topics can range from career development, pop culture, business, politics, and everything in between, the main focal point will be personal development.
The name of the show is based on the concepts/framework in my book, The MECE Muse: 100+ selected practices, unwritten rules, and habits of great consultants.  MECE stands for Mutually Exclusive, Collectively Exhaustive, a popular consulting technique. The original show was aired in 2017 and was a Top 50 ITunes podcast for consultants until I shut it down Summer 2018 to run my friend's local political campaign.  I've rebranded the show towards a more general audience.
The podcast show is inspired by my book – The MECE Muse: 100+ selected practices, unwritten rules, and habits of great consultants.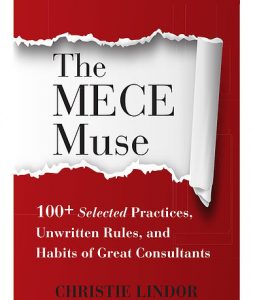 The MECE Muse provides an inside scoop on the habits of great consultants in the form of storytelling, career guidance, and selected practices. It gives readers "real deal" insights into the profession.
I dive into my 15+ years of experience as a business consultant, also sharing 20+ interviews and anecdotes from over 50+ consulting partners and leaders across the industry which represents thought leadership from 8 of the top 10 consulting firms in the world.
The MECE Muse book is now available for sale on Amazon in e-book and paperback. Please visit the book's website for more information.
ABOUT The Host & author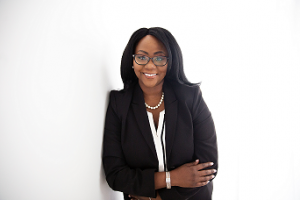 Christie Lindor is a management consultant and career reinventionist focused on all things transformational. She specializes in partnering with both private and public sector clients to harness the power of authenticity in organizational change.  Christie has spent her entire 16+ year career working for some of the top consulting firms in the world.
Given her vast experience in consulting, Christie enjoys being a frequent sounding board to dozens of mentees and has protégées doing great things all around the world.  Christie is a passionate coffee drinking futurist and blogs regularly on christielindor.com.
When Christie is not consulting, writing, mentoring, or public speaking, you can find her reading business books, talking politics,  jamming to electronica house music, or indulging in an unhealthy, addictive quest for the perfect pair of high heels and pearls.
Disclaimers:
Royalty-Free image Credits: Pixabay.com and Nappy.co.  Podcast music are royalty-free. Credits: ben sound lounge. This site uses affiliate links.