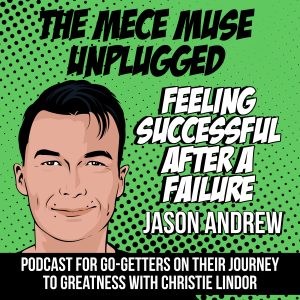 How do you feel successful when you maybe feeling like a failure? In this episode, we explore this concept and connect with Jason Andrews, author and Founder of SBO Financials, weighs in on this topic as well.
About Jason Andrews
Jason is a chartered accountant and has over a decade of experience as a business and corporate advisor, working with Government, mid cap and small businesses. He advises on a range of areas including mergers and acquisitions and transaction services, valuations, strategy and performance improvement. He also knows just enough about tax to be dangerous…
Jason is Co-founder of SBO.Financial, an accounting and operational finance business servicing client across Australia and the USA. SBO was established to bring financial control, clarity and governance to entrepreneurs and high-growth businesses, helping them with cash flow, metrics and improving profitability.
Jason is passionate about helping business owners extract value from their numbers and data. His personal mission is to improve the financial literacy of entrepreneurs and change the current worldview of the accounting profession.
Jason writes long-form content on finance and decision making for business owners. He is the author of entrepreneurial accounting book, 'Stark Naked Numbers' – regarded as the Barefoot Investor for entrepreneurs, or "4-Hour Work Week" of finance and business.
Jason's work has been featured in business publications like Business Insider, Your Money and Startup Daily. Jason was recently announced as one of Smart Company's Top 20 Business Thinkers for 2018.
Links from today's episode
Podcast: Play in new window | Download | Embed
Subscribe: Apple Podcasts | Google Podcasts | Stitcher | Email | TuneIn | RSS | More