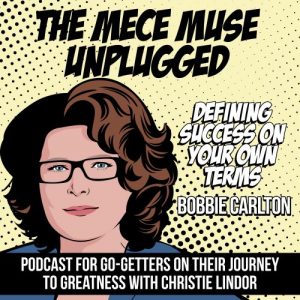 In today's episode, I share how I discovered my definition of success throughout my career and what you can do to help you define (or redefine) success towards your journey to greatness.  I'm joined by guest Bobbie Carlton, Founder of Innovation Women, one of the world's most successful online speaker's bureau for women. as she shares her journey to greatness and weighs in on defining success on your own terms.
Links from today's show
More about Bobbie Carlton
Founder of Carlton PR & Marketing, Innovation Nights and Innovation Women, Bobbie has been called Boston's Innovation Den Mother and the Startup Fairy Godmother. She's an award-winning marketing, PR and social media professional. She speaks regularly on marketing, public speaking and women's issues. Her humorous approach and fiery "let's make something happen" brand is supported by the real world results she helps drive: 1200+ new products launched, $3B in funding, and 1000+ women speaking at conferences and events.
Currently a "parallel" entrepreneur (instead of a serial entrepreneur), Bobbie has spent the last 10 years building her own businesses as well as supporting client and community efforts. Previously, in addition to working with a number of Boston-area PR and marketing firms, she headed global PR at Cognos and PTC, both publicly-held enterprise software companies. In 2006 she switched gears, joining a startup focused on supporting self-esteem and positive role models for preteen girls through a social network and book series.
In 2010 she was called one of the "ten Bostonians who have done the most for the startup community". She's also received numerous professional awards: Marketing Sherpa Viral Campaign of the Year, several PRSA Silver Anvils, Mass High Tech All-star, Boston Business Journal Woman to Watch, PR News Gamechanger award and Boston's "50 on Fire."
Podcast: Play in new window | Download | Embed
Subscribe: Apple Podcasts | Google Podcasts | Stitcher | Email | TuneIn | RSS | More