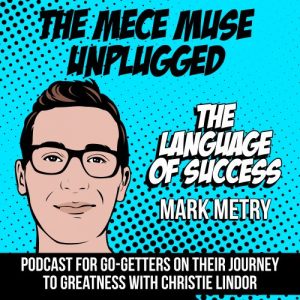 In this episode, we discuss the language of success – an important building block for any go-getter on their journey to greatness.  I share a couple of ways that I use language as a means to help catapult my success. We then connect with Mark Metry, speaker and host of the Humans 2.0 podcast one of the top 100 podcasts in the world.  Mark shares a bit about his journey and nuggets of wisdom from some of his famous guests and how he views the correlation between language and success.
More about Mark Metry
Mark is a Forbes Featured speaker that has interviewed Billionaires, New York Times Bestselling Authors and World-Class human beings on my Top 100 podcast.   Once a upon a time I couldn't make direct eye contact with anyone and suffered from social anxiety from health issues & not living the life I was strategically designed to live. At the age of 22, Mark's the host of Humans 2.0, one of the 100 podcast in the world.  And he is just getting started.
Mark is also a speaker and Founder of VU Dream currently, a growing and innovative VR/AR marketing & advertising agency based in Boston. VU Dream works with startups, studios, and other businesses to help customers imagine new future realities.
Links for today's episode
Podcast: Play in new window | Download | Embed
Subscribe: Apple Podcasts | Google Podcasts | Stitcher | Email | TuneIn | RSS | More